CLAYTON — For the past four years, the largest provider of health care insurance to low-income Americans has owned one of the fanciest hotels in the St. Louis region.
In 2018, managed health care company Centene Corp. discreetly bought the Ritz-Carlton here for $98 million. It has since kept its ownership out of securities filings and hidden from public view.
But newly released documents related to a property tax appeal now confirm Centene's ownership of the luxury hotel, situated about a quarter-mile east of company headquarters. And a chart of the company's subsidiaries, disclosed as part of an unrelated purchase, reveals the limited liability company that Centene used to buy the Ritz.
Centene is under pressure here and across the country. An activist investor has pushed the $47 billion company to improve profits, prompting Centene to replace five board members and announce the early retirement of the company's longtime chief. The new CEO is promising a more integrated, streamlined company — with a smaller real estate footprint. And investors and the public are ever-more conscious of corporate behavior, critical of practices that once were accepted norms.
It's unclear if the Ritz is helping Centene's bottom line: It's been a tumultuous stretch for the U.S. hospitality industry, which experienced its worst-ever performance in 2020. Data shows the Ritz in Clayton fared far worse than others in its class, reporting a loss of $2 million in 2020 after an $8.5 million profit in 2019.
"This seems like more of those old-school corporate empires, these CEOs that want to do these grandiose complexes," said John Barrios, a professor at Washington University's Olin School of Business. "This is a prime example of a CEO pet project."
Indeed, a hotel was once part of a Centene pitch to spend $770 million on a Clayton campus expansion, for which it secured over $100 million in public subsidies.
But the company bought the Ritz before even finishing one new office building, then halted further work on the expansion.
Centene executives confirmed ownership of the hotel but did not agree to an interview for this story.
Clayton officials say they understand why Centene, which employs thousands of people across the country, would buy a hotel near its headquarters. They said they believe the company always intended to carry out its expansion.
"They're a company with integrity," Mayor Michelle Harris said. "I think they had a plan for an amazing corporate campus."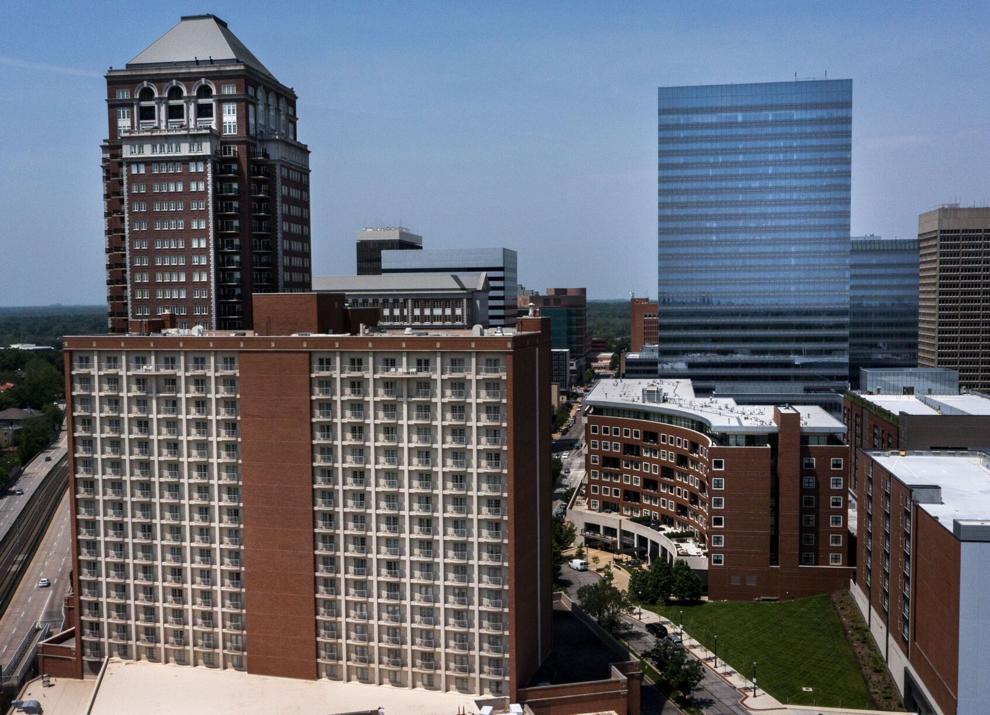 Health care giants usually don't own hotels
In 2016, Centene pitched a $770 million expansion of its headquarters: nearly 1 million square feet of office space, hundreds of apartments or condos, retail shops, a 1,000-seat civic auditorium and a 200-room hotel near South Hanley Road and Forsyth Boulevard.
The expansion was to accommodate Centene's growth, booming after its recent $6.8 billion deal to buy Health Net, a California-based competitor whose acquisition made Centene the biggest provider of government health care programs, like Medicaid and Medicare.
The hotel was important, officials said at the time, because Centene was the largest buyer of hotel rooms in Clayton and it needed more space to house employees flown in for training. Renderings depicted the hotel on vacant land just east of the Ritz.
Clayton and state officials signed off on a sizeable incentives package: $75 million worth of property and personal tax abatement over 20 years in Clayton and tens of millions more in state incentives, most of which would be dependent on the number of jobs Centene would add in the region.
Centene told Clayton that it expected to break ground on the hotel sometime in late 2019 or early 2020 and finish it by 2022.
But Centene never started construction on a hotel.
The company told Clayton in June 2020 that the land was not slated for development. In July it announced an East Coast campus, in Charlotte, North Carolina, and that it would pause all further construction in Clayton, citing the pandemic but also saying that crime in the region hurt recruiting efforts.
What it didn't say: It already owned the Ritz.
The Ritz, which opened at 100 Carondelet Plaza in 1990, is noted for its top tier personal service and pricey room rates: anywhere from the low $300s to over $3,000 a night. Large glass chandeliers hang from the ceilings of common areas. Countertops are marble. Wood paneling and molding adorn the walls. A signature scent, created just for the Ritz, floats through the air.
The Ritz Hotel Co., a subsidiary of Marriott International, manages many of its hotels, though it shares in profits and losses with the owners.
The Ritz did not respond to a request for comment for this story.
Hospitality analyst Gary Andreas said real estate investment trusts, usually those that also own other hotels, are the typical owners of Ritzes.
"A property like a Ritz is highly specialized because of the the nature of the hotel, the price level and the type of clientele," said Andreas, a principal with Chesterfield-based H&H Consulting.
The Ritz in Clayton has attracted a handful of owners over the years, including California real estate developer Lewis Wolff's Maritz, Wolff & Co., and later Los Angeles-based Oaktree Capital Management.
In August 2018, while Centene's office building was under construction, Oaktree sold the hotel to BLR Properties, a limited liability company.
Public records list little about BLR, except for one detail: The care-of name was listed as Mark Burkhart, a longtime St. Louis-area commercial real estate executive who served as co-chair of a 2017 United Way fundraising campaign with then-Centene CEO Michael Neidorff.
Burkhart did not respond to requests for comment.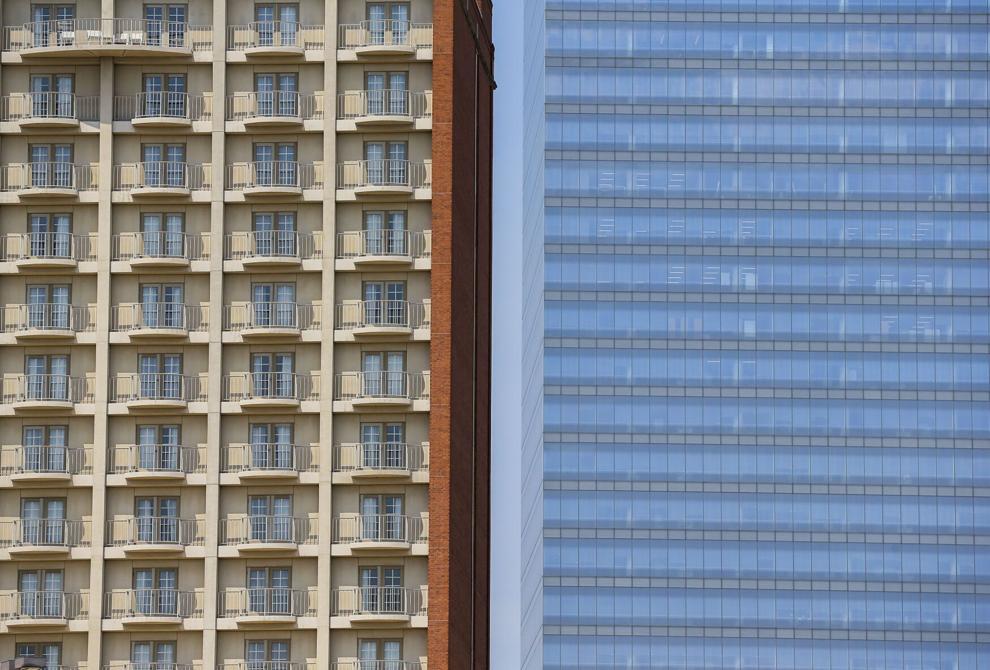 The Ritz met an 'immediate need'
But in July 2021, BLR filed a property tax appeal with the St. Louis County Assessor's Office, claiming the Ritz should be valued at $20.7 million, less than half of its current $46.5 million.
It provided documents showing how the pandemic pummeled profits:
Occupancy fell from 71.3% in 2019 to 23% in 2020.
Revenue per available room declined from $181.51 to $59.82.
That performance fared far worse than other Ritz hotels companywide where occupancy was 30.3% and revenue per available room was $126.72, according to a Marriott earnings report.
BLR hired a third-party real estate and tax expert to handle its appeal with St. Louis County, which, in documents filed with the county, listed its client as Centene. And included in its filings was an authorization form from the owner of the property, signed by Katie Casso, senior vice president, corporate controller and chief accounting officer of Centene. The appeal is pending before the state of Missouri.
In addition, Centene disclosed BLR Properties in an organizational chart of subsidiaries included in disclosure documents related to its $17 billion acquisition of a competitor, Tampa-based WellCare Health Plans Inc.
Those documents, filed with the state of Wisconsin in late 2019, show Centene organized BLR Properties under its Health Net subsidiary, the California company it bought in 2016.
The chart depicts a hierarchy: Centene is at the top of the family tree. Corporate subsidiaries like Health Net are beneath it. And beneath them are yet lower divisions. At the bottom sit two limited liability companies: First, one called MEB Ventures II — an LLC connected to Burkhart.
And below that: BLR Properties.
The chart shows that MEB owned 80% of BLR — meaning there was at least one other investor.
A source close to the matter said Bruce Karsh, a St. Louis native and the L.A. billionaire behind Oaktree Capital Management, owns a personal interest in the Ritz, though a spokesperson for Karsh declined an interview.
The organizational chart also makes clear that MEB is just a pass-through. Profits and losses flow back up the tree to Centene, said Henry Ordower, a law professor for St. Louis University, who reviewed Centene's chart for this story.
"If you're talking about operating a property like that, I would isolate that, too, from the rest of my operation," Ordower said. "You might have liability there that you want to keep out of the chain."
Barrios, of Washington University, said the $98 million price tag of the hotel was too small of a deal for the company to be required to disclose it in SEC filings. And the profits that Centene could be getting from the hotel also would be too small for the company to break out as a line item, "relative to the billions that they're getting through the health care," Barrios said.
Centene reported $126 billion in revenue in fiscal 2021, up 13% from to 2019. Profits fell from $1.8 billion to $1.3 billion.
A Centene spokesperson said in a statement that its acquisition of the Ritz "met an immediate need" for hotel accommodation.
"The investment represents a small piece of the company's normal course, capital investment strategy," the statement said.
Centene is even now re-evaluating the investment, the company said, along with other "non-core assets."