iPhone demand this quarter has thus far remained "surprisingly resilient" despite the widespread supply chain issues and other factors affecting the tech industry, according to Wedbush analysts Daniel Ives and John Katsingris.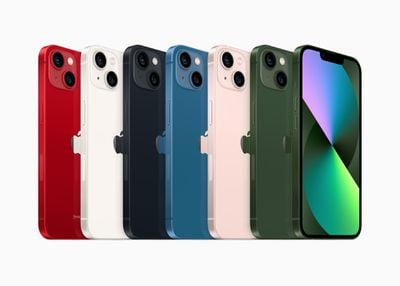 Summing up their research findings in a new investor note, the market analysts said Apple's flagship devices had been holding up well despite "compression across the board in tech" and fears of a growth slowdown rising, as reflected in Apple's reduced share price.
The albatross for the June quarter in our investor conversations over the past month have naturally been the Covid lockdowns in China which will negatively impact revenue by between $4 billion and $8 billion as a headwind according to Cook & Co.'s guidance given last month.

As of now we believe iPhone demand is holding up better than expected (despite the various supply issues that have plagued Apple and the rest of the tech sector) and are trending better than management's guidance thus far in the quarter.
Apple last month said that lockdown disruptions in China and silicon shortages would continue to make it difficult to make enough product to satisfy strong consumer demand as the year progresses, and that this would ultimately affect Apple's June quarter revenue.
Wedbush said lockdowns and supply chain issues should be "peak worry" in the June quarter, but that then they would subside into the key September and December quarters on the heels of Apple's iPhone 14 launch.
We believe the initial bogey and production plans for iPhone 14 should be up modestly from iPhone 13 out of the gates which speaks to Apple's confidence that pent up demand for this next release remain healthy despite the jittery macro.
Wedbush analysts claim the stickiness of Apple's upgrade cycle is being underestimated by investors and Apple's installed user base will be key to ‌iPhone 14‌ sales this year, with almost a quarter of the 1 billion iPhones in general circulation having not been upgraded for roughly 3.5 years.
On top of this advantage Apple holds over rivals, Wedbush expects Apple's services business to account for roughly $80 billion of annual revenue this year and is set to grow at a "steady double- digit clip" into 2023. "We believe Apple's services business is worth alone north of $1 trillion which coupled with the flagship hardware business makes the risk/reward very compelling at current levels," said the analysts.
Related Stories
Apple Was the Only Top Smartphone Vendor to Increase Shipments Year-Over-Year Last Quarter
Apple was the only top smartphone maker that saw a year-over-year increase in shipments in the last quarter, while Samsung, Oppo, Xiaomi, and others saw steep declines in their respective mobile smartphones. Apple yesterday announced record earnings for the March quarter, with more than $97 billion in revenue, beating expectations. Following the results, Strategy Analytics, Canalys, and IDC…
Apple Expects Supply Constraints to Continue in Q3 2022
Apple is expecting ongoing supply issues to continue to impact product sales in the third quarter of 2022. In the second quarter, Apple had some difficulty meeting demand for the iPhone, iPad, and Mac due to supply constraints, and that is going to get worse in Q3 2022. Apple CFO Luca Maestri said that Covid disruptions in China and silicon shortages are making it difficult to make enough…
Apple Reports 2Q 2022 Results: $25.0B Profit on $97.3B Revenue, Best March Quarter Ever
Apple today announced financial results for its second fiscal quarter of 2022, which corresponds to the first calendar quarter of the year. For the quarter, Apple posted revenue of $97.3 billion and net quarterly profit of $25.0 billion, or $1.52 per diluted share, compared to revenue of $89.6 billion and net quarterly profit of $23.6 billion, or $1.40 per diluted share, in the year-ago quarter…
Apple Reports All-Time or March Quarter Revenue Records Across All Categories Except iPad
Apple today announced its earnings results for the second quarter of its 2022 fiscal year, including revenue of $97.3 billion, a new March quarter record. Apple saw growth across its iPhone, Mac, Wearables, and Services product categories, but iPad revenue experienced around a 2% decline compared to the year-ago quarter. "We are very pleased with our record business results for the March…
Apple Sold Over 40 Million iPhone 13 Models During the Holiday Season, Says Wedbush Analyst
Apple sold north of 40 million iPhone 13 models over the holiday period in a record number for the company, despite industry-wide chip shortages, according to Wedbush analyst Daniel Ives. Last year, reports began emerging that demand for iPhone 13 models was slowing ahead of the holidays as delivery estimates for ‌iPhone 13‌ models started to improve. However in a new note to…
iPhone Shipments Up Nearly 20% in Q1 2022 in North America
Apple shipped an estimated 20 million iPhones in North America in the first calendar quarter of 2022, marking notable growth, according to shipment estimates that were shared today by Canalys. iPhone shipments were up nearly 20 percent from the 17 million iPhones shipped in the year-ago quarter, and Apple's market share hit 51 percent, up from 45 percent. Apple was the number one…
Supplies of Apple Products to Improve in March Quarter
Apple faced significant supply constraints across all devices during the first fiscal quarter of 2022, but product supplies are expected to improve in the March quarter, Apple CEO Tim Cook told The Wall Street Journal ahead of today's earnings call. "We saw supply constraints across most of our products," Mr. Cook said in an interview Thursday as the company released its results. "We're…
Apple Reports All-Time Quarterly Revenue Records for iPhone, Mac, Wearables, and Services
Apple today reported its earnings results for the fourth quarter of 2021, which corresponds with the first quarter of the 2022 fiscal year. Overall, Apple reported revenue of $123.9 billion, which is an all-time quarterly record for the company. On a category-by-category basis, Apple also set all-time quarterly revenue records for the iPhone, Mac, Wearables, and Services:iPhone: $71.6…
Popular Stories
Anker's Latest USB-C Docking Station Brings Triple-Display Support to M1 Macs
While Apple's early M1-based Macs can only officially support a single external display, there are ways around the limitation. Anker is launching a new 10-in-1 USB-C docking station today which delivers just that. The Anker 563 USB-C dock includes two HDMI ports and a DisplayPort port, and it leverages DisplayLink to carry multiple video signals over a single connection. Given that this hub…
Apple Highlights iPhone's Latest Privacy Features in New 'Data Auction' Ad
Apple today shared a new ad highlighting iPhone privacy features like App Tracking Transparency and Mail Privacy Protection that are designed to give users more transparency and control when it comes to their personal data being collected. The ad revolves around a young woman named Ellie who discovers that her personal data is being sold at an auction house, with bids being placed on her…
Apple Watch Series 8 Rumored to Feature New Design With Flat Display
The Apple Watch Series 8 could feature an all-new design with a flat display, according to the leaker known as "ShrimpApplePro." In his latest video on the YouTube channel Front Page Tech, Jon Prosser highlighted information from ShrimpApplePro that suggests the Apple Watch Series 8 could feature a flat display in what seems to be a design originally rumored for the Apple Watch Series 7. …
Sony's New WH-1000XM5 Headphones vs. Apple's AirPods Max
Sony this week came out with an updated version of its popular over-ear noise canceling headphones, so we picked up a pair to compare them to the AirPods Max to see which headphones are better and whether it's worth buying the $400 WH-1000XM5 from Sony over Apple's $549 AirPods Max. Subscribe to the MacRumors YouTube channel for more videos. First of all, the AirPods Max win out when it comes …
Will the iPhone 14 Be a Disappointment?
With around four months to go before Apple is expected to unveil the iPhone 14 lineup, the overwhelming majority of rumors related to the new devices so far have focused on the iPhone 14 Pro, rather than the standard iPhone 14 – leading to questions about how different the iPhone 14 will actually be from its predecessor, the iPhone 13. The iPhone 14 Pro and iPhone 14 Pro Max are expected…
Apple's AR/VR Headset Nearing Completion as Board Gets Demo
Apple last week demonstrated its upcoming AR/VR headset to Apple board members, indicating that the device is in an advanced stage of development and could see a debut in the not too distant future, reports Bloomberg. Apple has also ramped up development of the software that runs on the headset, with that software expected to be called "RealityOS," or rOS for short. Render via designer Ian …